Jude The Obscure ® 8-liter Pot (Present Rose)
English Rose (Modern Rose)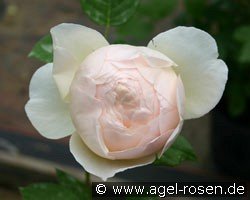 English Rose Jude The Obscure
aprikot, gelb bis rosa
sehr stark gefüllt
stark duftend
mittelgrün
buschig
David Austin, 1989 introduced
Diese Rose erblüht in kleinen Clustern und begeistert mit ihren stark gefüllten Blüten, die einen intensiven Duft versprühen. Das Farbspiel reicht von einen gelblichen Ton bei dem ersten Erblühen, über ein Aprikot bis hin zu einem Rosa in voller Blüte.
Write a field report
1
Field report for
Jude The Obscure ®
Tina wrote about Jude The Obscure ® ()
Der Duft...
Man muss nur einen Mal an dieser Rose schnuppern um nach diesem Parfüm, was sie trägt, süchtig zu werden...