Friesia ® Tree Rose (~90cm) in 5l Pot
Floribunda Rose (Modern Floribunda)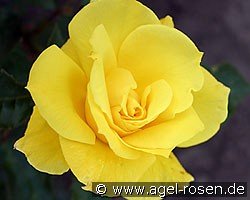 Floribunda Rose Friesia
luminous golden yellow
large, dense filled, weather resistant
strong, lovely fragrant
June up to frost
glossy, leathery
bushy, upright, compact, strong branched
W. Kordes' Söhne, 1973 introduced
Early flowering, one of the most popular Floribunda Roses because of the colour, rich flowering and fragrance. Weather-proof and hardy.
also deliverable as ...
Write a field report
6
Field reports for
Friesia ®
Kristin wrote about Friesia ® ()
Friesia
Ich kenne die Rose nun seit 8 Jahren. Schneide sie im Frühling stark zurück. Im Juni erfreut sie als eine der ersten mit einem starken Flor, der seinen Duft auch schon mal verströmt. Ansonsten muss man sich halt niederbeugen, da sie recht klein bleibt. Wächst straff aufrecht. Leider halten die Blüten nicht lange. Nur wenige Tage. Die Blätter sind nicht besonders gesund. Was aber nicht stört.
Agrippina wrote about Friesia ® ()
Rose hat den Winter 2011 bei uns im Kübel gut überstanden - mit Schutz. Nun hat sie die ersten Knospen. Sie erscheint mir im Moment noch recht kompakt und ist kein "Himmelsstürmer".
Anne S. wrote about Friesia ® ()
Sehr gute Blattgesundheit. Winterhart. Duftet beim Aufblühen herrlich nach Zitrone. Wunderschöne gelbe Blüten, die leider mit der Zeit verblassen.
Nur gute Erfahrungen, würde sie jedem empfehlen.



MariaB wrote about Friesia ® ()
Leuchtende Farbe, aber leider sehr schnell verblüht. (ca. nach 3-4 Tagen)!
Astessrid wrote about Friesia ® ()
Schöne Farbe, interessanter, frischer Duft, der aber nicht überragend stark ist. Ich halte sie im Kübel und sie ist trotzdem eigentlich nicht zurückgefroren. Wirklich sehr blattgesund. Empfehlenswert.
Ana Sonja wrote about Friesia ® ()
Die Rose hat sehr schöne Blüten ,leider sind nicht sehr haltbar.